November
Sheraton Keauhou Beach Resort & Spa
GEMS (Girls in Engineering, Math, and Science) will be Nov. 9, 2017 at the Courtyard King Kamehameha. Simone White and Patti Kimball will be cooking up a rainbow of vegetables with three sessions of 5th grade girls.


December
CHRISTMAS WITH THE CHEFS at Kamakahonu Bay
King Kamehameha Kona Beach Hotel


February
CULINARY ARTS UNDER THE STARS
Kings' Shops Wailkoloa Beach Resort
Friday, February 23, 2018
5:30 pm - 8:00 pm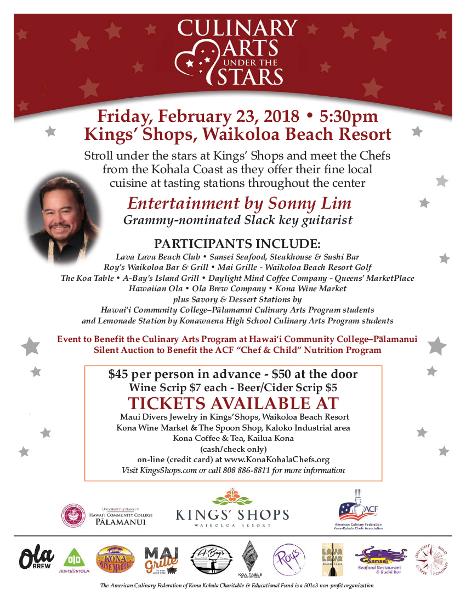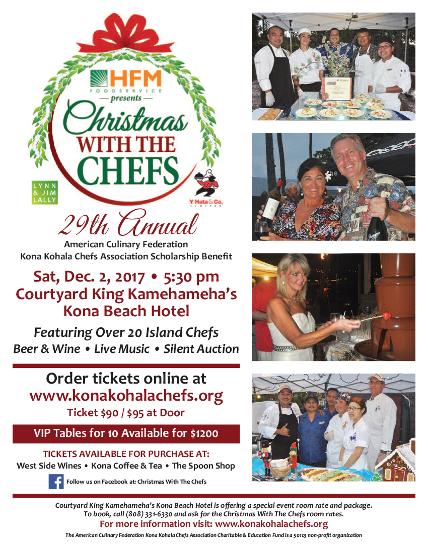 Chrismas with the Chefs
Courtyard King Kamehameha's Kona Beach Hotel
Sat, Dec. 2, 2017 • 5:30 pm
The Big Island's premier holiday extravaganza. "Christmas with the Chefs" at Kamakahonu Bay committee is excited about the 29th year of this culinary scholarship benefit. The date is: Saturday, December 5, 2015, 5:30-8:00 p.m. at The Courtyard King Kamehameha's Kona Beach Hotel, Seaside Lu`au Grounds.
It will be held on historic grounds of the island of Hawai`i. Kamakahonu (The Turtle Eye) was named for a distinctive lava formation. The four-acre enclosure housed the royal family's compound. From here KAMEHAMEHA I ruled all of Hawai`i.
The gala benefit features culinary specialties, fine wines, handcrafted ales, live jazz music and an impressive silent auction. Attendance to this exclusive event is limited to 500 people and tickets are $90 per person. VIP tables for 10 are available for $1200

Culinary Arts Under the Stars
Kings' Shops, Waikoloa Resort
A Benefit for the Culinary Arts Program
at Hawaii Community College - Palamanui
held in February
"Culinary Arts Under the Stars," hosted by the Kings' Shops, was a delightful and delectable benefit thanks to the chef participants, volunteers and attendees. This food tasting event is a benefit for the Culinary Arts Program at Hawai`i Community College-Palamanui and sponsored by the American Culinary Federation Kona Kohala Chefs Association.
The professionalism and hospitality of the Kings' Shops was highly appreciated. The ACFKKCA enjoyed working with the shopping center in this creative partnership while showcasing the upscale properties on the Kohala Coast. The tasting stations included: Waikoloa Beach Marriott Resort and Spa, A-Bay Island Grill, The Koa Table, Lava Lava Beach Club, Hapuna Beach Prince Hotel, Mai Grill, Daylight Mind Coffee Company, Roy's Waikoloa Bar and Grill, and Hawai`i Community College culinary students. As the chefs-participating culinarians presented their tastes, they engaged with the guests adding a special personal touch to this benefit.
The KKChefs is so very appreciative for the support and generosity from the culinary industry. Proceeds are directed toward the organization's Culinary Endowment with the University of Hawai`i Foundation. Mahalo to the chefs, Westside Wine, Konawaena High school, Odom Coca-Cola Hawai`i and the volunteers who helped to continue this philanthropic investment into perpetuity.
The 2018 Culinary Arts Under the Stars will be Feb. 23, 2018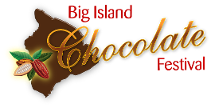 Chocolate Festival
Friday & Saturday • April 27 & 28, 2018
Hapuna Beach Prince Hotel
Known as Hawaii's must-attend chocolate extravaganza, the 7th Annual Big Island Chocolate Festival event is April 27-28, 2018. Produced by the Kona Cacao Association (KCA), the tasty event offers two days of activities to raise awareness of our local cacao industry and demonstrate how to best use chocolate while supporting local beneficiaries.
Fun kicks off on Fri., April 27 with cacao seminars, a cacao plantation tour and college student competition. Saturday brings chocolate culinary demonstrations with celebrity chefs and chocolatiers geared for the advanced or budding chef, and culminates with a fundraising gala from 5:30 pm - 9 pm, Sat. April 28. The gala celebration features over 30 culinary booths providing savory and sweet options, unlimited wine and beer tastings and a live silent auction. The event includes a professional food competition judged by celebrity chefs, as well as energetic live music and dancing.
The festival will again be hosted at the Hapuna Beach Prince Hotel, which is offering fantastic room rates and a sprawling, indoor/outdoor space for the gala evening. Every gala ticket includes an all-you-can-enjoy mole and salad bar. VIP tickets feature a fine wine bar, dedicated seating and first entry into the event at 5 pm

To kick off the 2018 Festival, KCA has put together some great ticket and room packages for you to give to your loved ones and party friends for the holidays! Please visit the event website for more information, www.BigIslandChocolateFestival.com.
For questions regarding the chefs or judges, please contact Kona Kohala Chef Assn. member Farsheed Bonakdar of the Cocoa Outlet,
ACF Sponsored Events / Contacts
ScholarshipsAgricultural Committee
Ken Love
Love Family Farms
Kenlove@Hawaii.edu
808 323 2417
Chef and Child, Nutrition Programs
Tami MacAller
tami@hiphi.org.

For any problems or questions regarding this site
please contact the webmaster