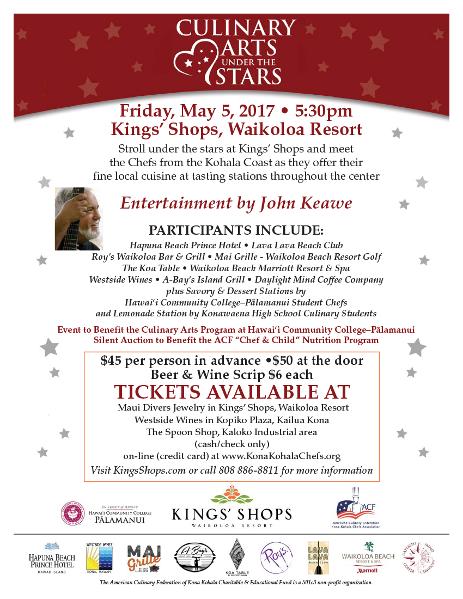 Stroll under the stars and meet the chefs from the Kohala Coast as they offer tasting stations throughout the center with some of the finest local cuisine.
Dessert station presented by the patisserie students from
Hawaii Community College-West Hawaii.
Silent auction items to bid on
at many Kings' Shops retailers

Tickets $45 in advance • $55 at the door
Wine and beer scrips $6.00 each

Phone (808) 329-2522 to charge tickets by phone.


ChefConnect: Hawaii
Waikoloa Beach Marriott Resort & Spa, April 3–5, 2016. Central and Western Region members head to Hawaii Island for the Spirit of Aloha. Comprised of five distinct volcanoes, The Big Island is an unrivaled expression of the power of nature. NativeHawaiian cuisine started with the first Polynesians who arrived with fruit and plants to cultivate the new land. Today, modern regional cuisine beautifully reflects the fusion of global influences and local products. Join us for a culinary exploration of local and regional cuisine along with industry trends, education and networking.
October 2016
TASTE OF THE HAWAIIAN RANGE" AND AGRICULTURE FESTIVAL
HILTON WAIKOLOA VILLAGE 6 pm - 8 pm
November 6-15, 2015
KONA COFFEE CULTURAL FESTIVAL
Sheraton Keauhou Beach Resort & Spa
November 15, 2015
GEMS (Girls Education & Mentoring Service)
Dr. Carol Whitaker and Jean Hull will handle the breakfast and
Simone White the will conduct the three workshops.
December 3, 2016
CHRISTMAS WITH THE CHEFS at Kamakahonu Bay
King Kamehameha Kona Beach Hotel

February 26, 2016
CULINARY ARTS UNDER THE STARS
Kings' Shops Wailkoloa Beach Resort
5:30 pm - 8:00 pm

For any problems or questions regarding this site
please contact the webmaster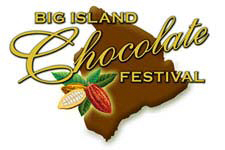 Friday & Saturday
April 28 & 29
2017
Hapuna Price
The Sixth Annual Big Island Chocolate Festival Gala, being held from 5:30-9 pm on Saturday May 14th, blends three events into one decadent evening! A professional food competition judged by celebrity chefs, a fundraiser to benefit the Kona Kohala Chef's Association scholarship program for local culinary college students and enrichment programs for the Kona Pacific Public Charter School, and a fabulous evening of sweet and savory chocolate tastings, wine tasting, live music and dancing.
This year we debut a new venue, with the Hapuna Beach Prince Hotel offering fantastic room rates and an indoor/outdoor space for the Gala evening. Every ticket also includes an all-you-can-enjoy Mole and salad bar and Bacardi drink station. VIP tickets include a fine wine bar, dedicated seating, and first entry into the event at 5 pm.
To kick off the 2016 Festival, we have put together some great ticket and room packages for you to give to your loved ones and party friends for the holidays!
For questions regarding the chefs or judges, please contact Farsheed Bonakdar, Cocoa Outlet, 808- 324-6100, or
farsheedb@cocoaoutlet.com
.

Friday, September 9, 2016, 6:00-8:00 p.m. at the Hilton Waikoloa Village, Big Island of Hawai'i Price: $40 presale, $60 at the door .
Tickets: Available online until 3:00 pm October 4
The 21st Mealani's Taste of the Hawaiian Range where you can sample the rich flavor of numerous cuts of pasture-raised meat and talk story with the people who are producing our food. Attendees will enjoy delectable dishes using pasture-raised beef, pork, lamb, goat, mutton and wild boar—plus a cornucopia of fresh island fruit, veggies, honey, spices and beverage
Details: Over 30 Hawai'i chefs prepare culinary "tastes" using 100 percent grass-fed beef, pork, lamb, goat, mutton and wild boar—plus fresh island fruit and vegetables. Attendees graze at culinary stations while visiting vendor booths to meet the farmers and ranchers who grow our food.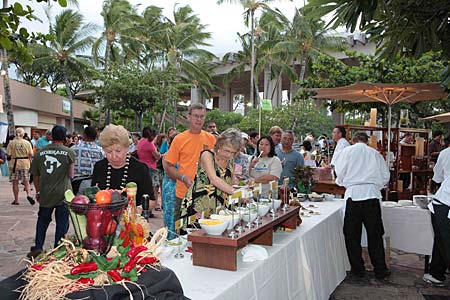 Diners graze at Mealni's Taste of the Hawaiian Range at the Waikoloa Hilton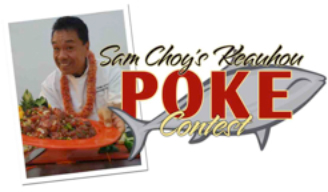 March 16
Sheraton Kona Resort Convention Center
Poke contest fun is 9 a.m.-3 p.m. and includes Hawai'i Island Marketplace, a "Poke Throw Down," a celebrity "Poke Chop" cookoff, guest speakers, entertainment by Royal Hawaii Band Kona and cultural demonstrations. Public poke tasting is 12:30 p.m.
Entry fee is $15 for amateurs and $30 for professionals—culinary students can participate for free. High schoolers can enter in a new High School Division and college culinary students are welcome to again vie in the non-professional category.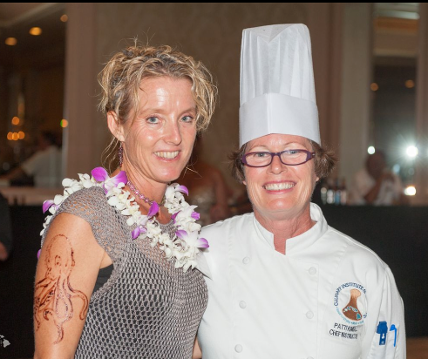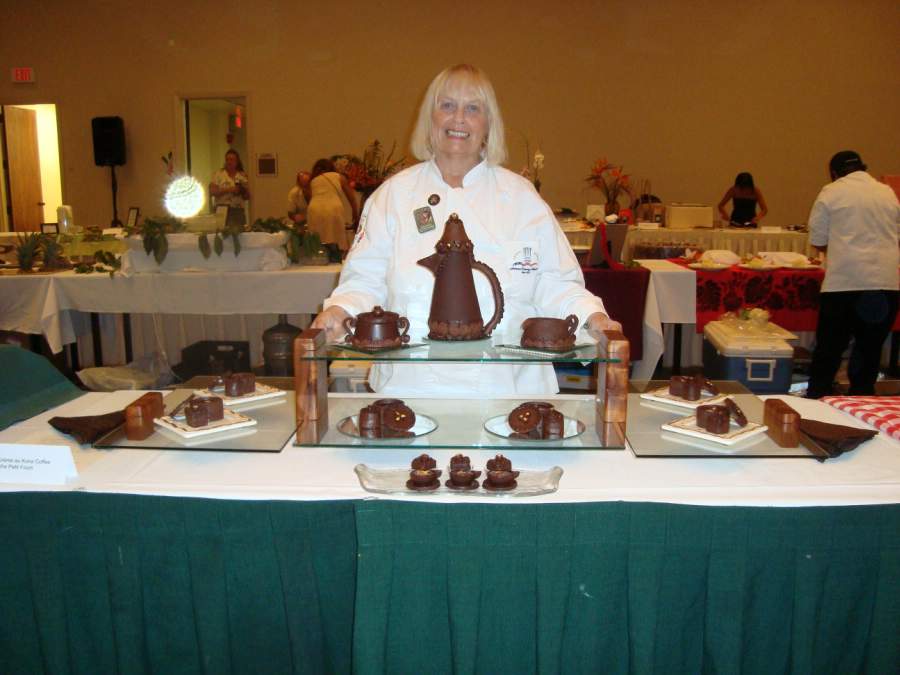 Pastery Chef Suzanne Bearth with her winning Pots Du Creme recipe
at the Kona Coffee Festval
ACF Sponsored Events / Contacts
Kona Coffee Cultural Festival