Aloha, This page is currently in development.
If you have a recipe and photo you would like to submit, please email
your full name, photo and include the recipe in the body of your email or as a MSWord attachent.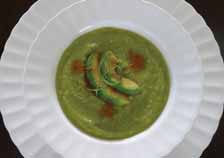 Chilled Avocado Soup
Diane Tomac-Campogan
Chef/Owner, the Nasturtium Cafe
Yield: Two 10 ounce servings
1 avocado, ripe, peeled, cut into chunks 1⁄2 cucumber, peeled, cut into chunks
1 apple, peeled, seeded, cut into chunks
2 tablespoons lemon juice, fresh
2 tablespoons lime juice, fresh
2 teaspoons agave syrup, or sugar
1⁄4 teaspoon salt
3 teaspoons sweet chili syrup
Put all in blender and pulse until very smooth.
Serve chilled.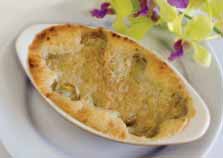 Apple Banana Cobbler

Piet Wigmans, CEC
Executive Chef, Hilo Hawaiian Hotel

Yield: 4 Servings

4 apple bananas

8 ounces cobbler batter

4 ounces streusel

4 scoops macadamia nut ice cream
Cobbler Batter
1 cup melted butter

2 cups sugar

11⁄2 cup self rising flour

11⁄2 cup water

Mix all ingredients and set aside.

Streusel Topping

2 ounces cold butter

2 ounces sugar

2 ounces brown sugar

2 ounces all purpose flour
Mix Ingredients while butter is cold to a crumble, store
refrigerated.
To assemble; in a 7" rarebit gratin dish or other oven
proof shallow dish, slice the apple banana 1⁄2 inch thick,
place in the dish, cover with 1⁄2 cup cobbler batter,
sprinkle 1⁄4 cup streusel crumbles over.
Bake at 350° for 20 minutes. Serve warm with a scoop
of macadamia nut ice cream topped the very last.